Occupational Therapy for Children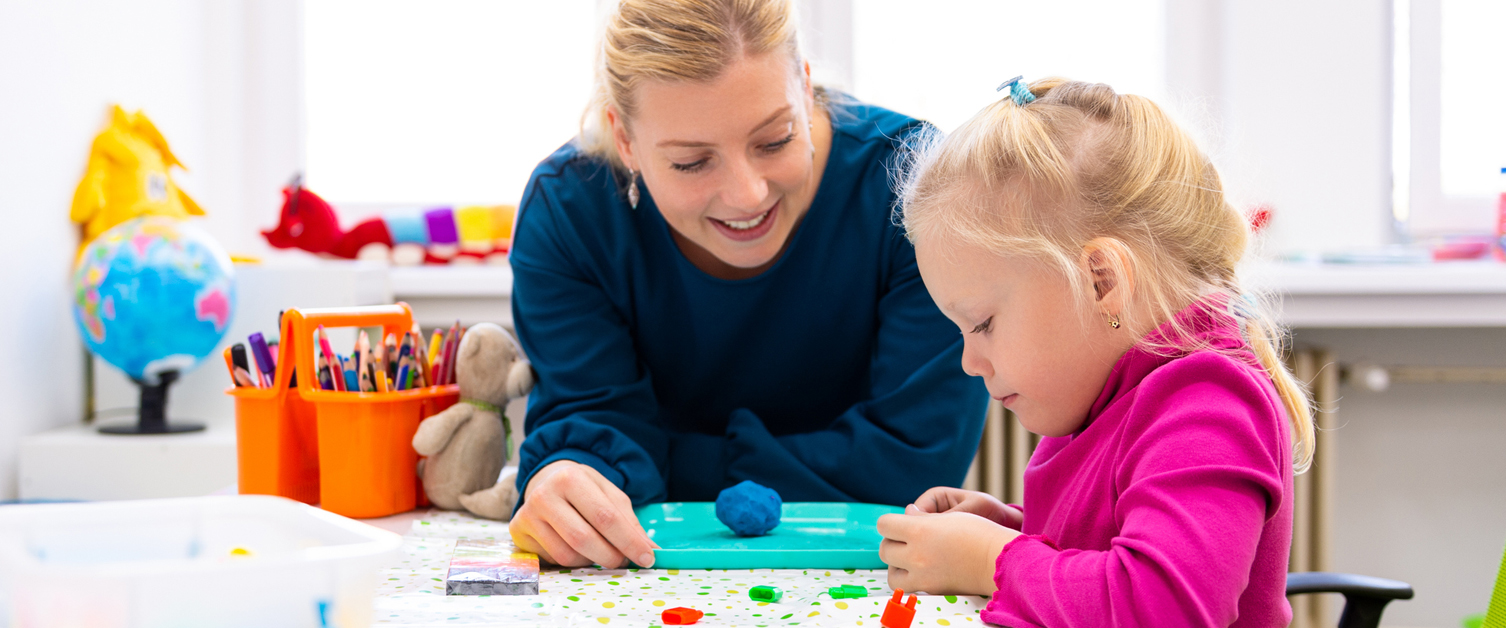 Who are we?
We are a team of Children's Occupational Therapists (OTs) and Occupational Therapy Technicians (OTTs) who provide a service to children from birth.
Although the Occupational Therapy teams are based in clinic/hospital we link into the community; including children's homes, childminders, nurseries, schools and leisure facilities.
We have strong working relationships with the multi-disciplinary team across health, education and social care.
Who is OT for?
We work with children with a range of additional needs, their families and anyone working with the child.
A child may require intervention due to disability, condition or developmental difficulties that significantly impacts their participation in daily activities, and ability to access their home/early years/school environment.
What do we do?
Occupational Therapy can help babies, infants, children and young people grow, learn, socialise and play so they can develop, thrive and reach their potential.
OTs and OTTs work with children and young people who have difficulties with daily activities e.g. going to the park, scribbling and drawing, playing with toys, getting dressed, feeding, toileting. We call these 'occupations'.
We help children to carry out activities they need or want to do in areas of self-care, nursery/school work and play.
OTs and OT Technicians (OTTs) may work directly with children, or they may support parents, carers and other professionals to help your child.
Can Anyone Use This Service?
Yes. We have an open referral system and referrals can be made by completing a CTM UHB Children's Occupational Therapy Service Request for Help Form. If you require a copy of the Request for Help Form, please contact the department via telephone or email to request a copy.
What to Expect
Our aim is to support children to learn new skills to help them become more independent. We do this together with the parent, child, teacher or other professionals the child may be known to.
The aim of the service is to be able to help those closest to the child/young person find possible solutions to assist in managing the child's needs. This may include health promotion through advice, strategies and activity ideas or signposting towards community resources. If we agree that the child/young person concerned would benefit from seeing the OT we will look at:
What the child is doing (their occupation)
Where the child is doing it (their environment)
How the child is doing it (their performance)
We sometimes have to use assessments that look in more detail at the skills they need to learn and develop as well as gather information from parents and schools. This will help us work out the best way to improve participation, in collaboration with the child, carers and other professionals.
It is most likely that we will give advice and ways of doing things that will be helpful to use every day. We may also:
Invite the child to attend an identified block of therapy sessions. This may be on a one to one basis with the Occupational Therapist or Occupational Therapy Technician or in a group setting.
Recommend equipment to help the child/young person or their carers carry out the activity they are finding difficult
Invite parents to a workshop
For change to happen it is important that the strategies and advice that are agree on are carried out. This will help the child/young person and their carers achieve the goals set and may help them achieve goals in the future.
Contact Us
Carnegie Clinic (Covering Rhondda Taff Ely)
Email: CTM.OT.Requests@wales.nhs.uk
Tel: 01443 443073
Address: Paediatric Occupational Therapy, The Sunflower Suite, Carnegie Clinic, Brithweunydd Road, Trealaw, Rhondda, CF40 2UH.
Ysbyty Cwm Cynon (Covering Merthyr Cynon)
Email: CTM.OT.Requests@wales.nhs.uk
Tel: 01443 715237
Paediatric Occupational Therapy, Children's Centre, Ysbyty Cwm Cynon, New Road, Mountain Ash, CF45 4DG.
Princess of Wales Hospital (Covering Bridgend)
Tel: 01656 752237
Paediatric Occupational Therapy, Children's Centre, Princess of Wales Hospital, Coity Road, Bridgend, CF31 1RQ.