Creative Crafts Workshop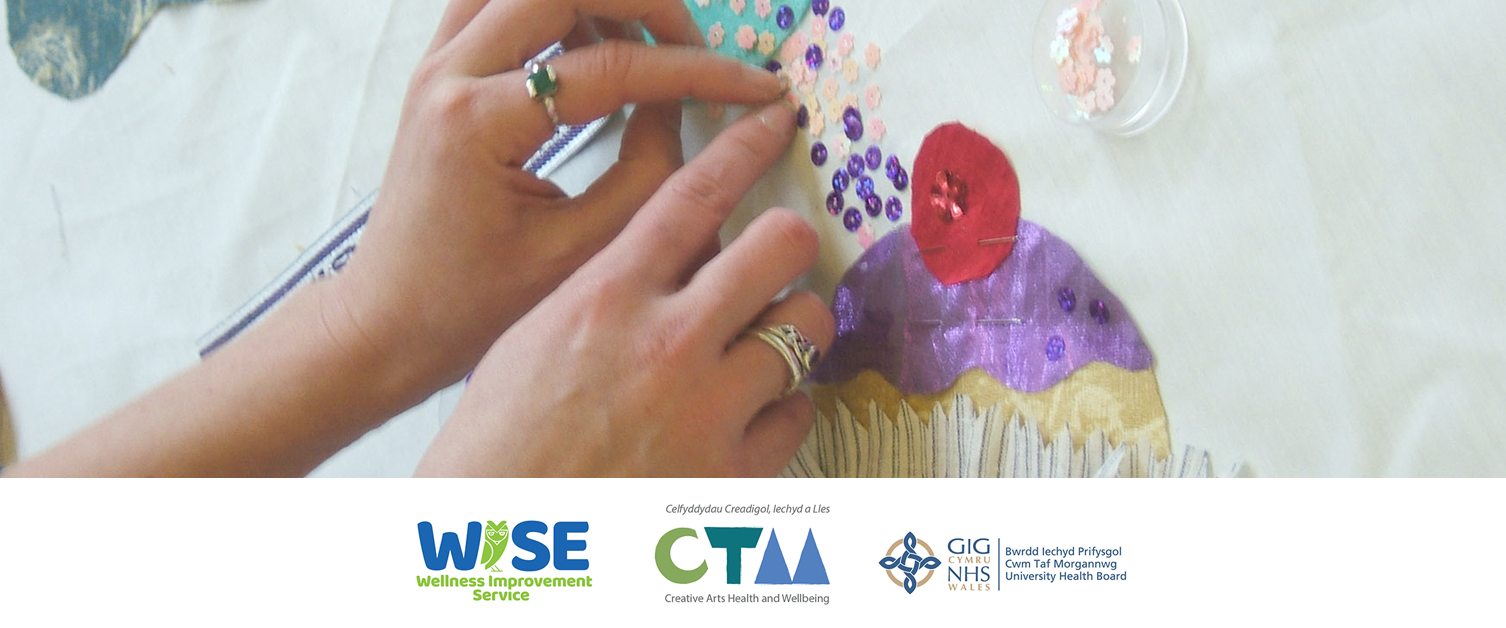 Creative Crafts Workshop - Becky Adams
10 Mental Wellbeing Crafts
The creative crafts workshop is a gentle course to promote kindness and calm. The course is designed for all abilities and is accessible to all and sessions are to be one hour long. All materials will be provided – or could be sent through the post if working remotely. Materials are mainly paper, fabric and glue as these are accessible and put participants at ease through their familiarity.
Within the workshop, participants are able to create:
1. A paper house – template provided to build a safe place to think and create. Fill the house with images and words associated with feeling safe and secure.
2. Paper birds – let your hopes and dreams take flight. Can be elaborated to make a mobile or window decoration.
3. A wishing tree – decorate the tree with positive affirmations, pattern and collage.
4. A walk through nature – create paper foliage and flowers.
5. A Pocket book of promises to the self. Make your own book with pockets to fill with personal reflections.
6. Count your blessings. A provided image of a jar to be decorated and filled with imagery and words relating to positive thoughts.
7. A glass is half full – collage and paint positive thoughts onto a glass, jam jar or graphic representation of one.
8. A Room of Ones Own – create a cardboard room assemblage using collage and photographs. A space to feel safe.
9. A Postcard To A Friend – mail art project encouraging connection. Post a hand-painted postcard to yourself, friend or family member.
10. A thoughts collection – take a walk and create a mind map of your thoughts and feelings as you wander. A mindfulness exercise in noticing the tiniest of details in nature.
---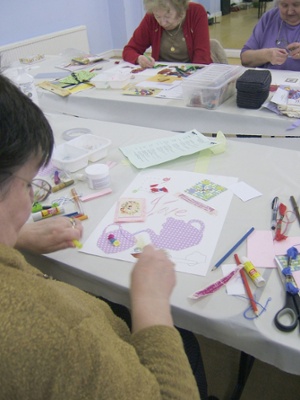 About the artist
Becky Adams is an applied artist from Penarth, South Wales. She combines a love of storytelling with stitched paper, vintage fabric, old sketchbooks and antique ephemera to create intricate textile and book works. She studied Fine Art and English Literature in Liverpool (BA Hons) and later gained an MA in Book Arts in (London).
Becky combines her studio practice with community workshops, public art projects and artist residencies such as Ruthin Craft Centre and Chitraniketan in Southern India. Becky exhibits regularly and has work in the Tate, V&A and London School Of Printing collections.
Becky has 20 years experience of delivering art workshops in the community and delights in promoting art via an access for all policy. Her workshops are broad ranging – she visits educational settings, care homes, youth groups, art galleries and community groups all over the UK.
Becky says: "I provide my Arts In Health craft workshops as an antidote to our busy lives. My own creative practice is a way of life and I find solace in making – it enables me to calm my thoughts and focus on the present moment. Inviting workshop participants to share in my love of creativity is a great privilege."
"The NHS have issued a five-step plan to mental wellbeing, and paying attention to the "present moment" can improve our mental health. Stress and inner turmoil can be relieved by becoming absorbed in craft and making. It is an immersive activity that can lead us to respond to life thoughtfully, reflect and make connections.
"My art workshops provide an informal space in which to create and explore. The materials that I provide consist mainly of fabric, paper and glue so as to put participants at ease through their familiarity. My workshops are gentle and slow paced – a cup of tea is often offered to enhance the experience!
For more information, please visit Becky's website here: Becky Adams Website
Becky has also written an article referencing the mental health benefits of stitch here: https://museum.wales/cynfas/article/2282/Learning-Resource-Hexagon-Patchwork/
---
If you have been referred to the WISE Service and would like to register for the Creative Crafts Workshop with Becky Adams, please email: CTM.WISE@wales.nhs.uk
---
For further information please email: CTM.WISE@wales.nhs.uk or call us on 01685 351 451. Visit our website at: https://ctmuhb.nhs.wales/wise-ctm
---
Return to Creative Arts, Health and Wellbeing