Success Stories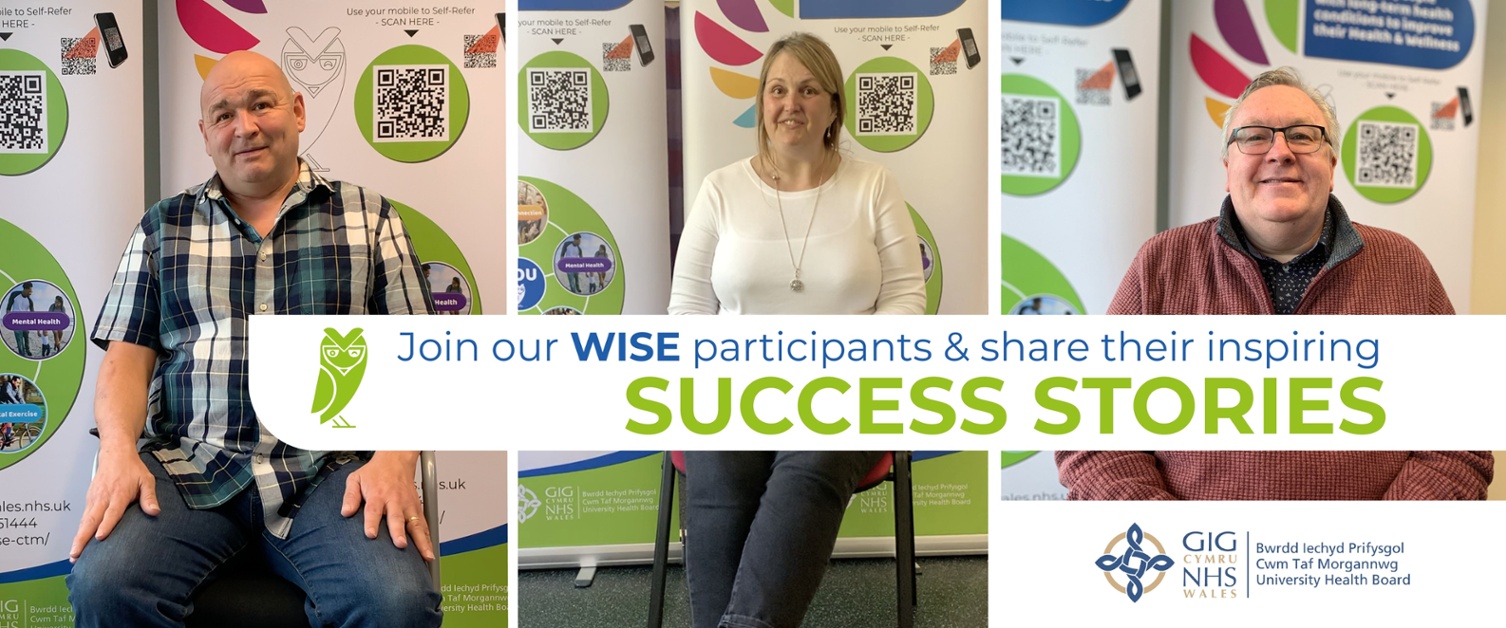 Here is a collection of heartfelt video interviews with participants from the Cwm Taf Morgannwg community who recently finished their courses at the coach-led Wellness Improvement Service (WISE) and who openly share their remarkable health stories with us.
These individuals show tremendous courage and determination to share their experiences with the public, as they aim to inspire others to embark on their own wellness journeys.
With the ongoing support of trained Wellness Coaches, hear how WISE's innovative toolbox of strategies empowered them to take control of their personal well-being and instilled a newfound sense of self-worth.
These participants' stories stand as testaments to the potential for change and growth that resides within each of us.
0:00
[Music]
0:03
[Applause]
0:08
thank you
0:13
and we're on a visit to my GP she
0:17
suggested that I join wise and she felt
0:20
I'd be an ideal candidate for it and
0:22
I've been suffering with Stress and
0:25
Anxiety for a number of years and that
0:27
was accompanied by chronic pain in my
0:30
shoulder and neck and pain in my elbows
0:34
pain everywhere and and also constant
0:37
headaches and just sort of lots of
0:40
niggly pains everywhere and despite
0:43
having x-rays scans nothing significant
0:47
has really sort of been been found so
0:50
she suggested wise as being something
0:52
that I could attend to find out whether
0:55
there were different strategies that
0:57
would help me to cope with everyday sort
0:59
of symptoms
1:05
one of my big problems when I started
1:07
why advice
1:09
um was fatigue and brain fog and fatigue
1:12
constantly
1:14
um I was fined and I needed to go to
1:15
sleep nearly every afternoon and not
1:18
just for an hour I could sleep for an
1:20
hour two hours and two and a half hours
1:22
and it was really hard and effect and on
1:25
my my daily life and I do find that
1:29
since doing the wise program we've
1:31
talked about sleep patterns making sure
1:33
that you get the proper amount of sleep
1:36
but not just so many hours of sleep but
1:39
also a deep sleep and I realized that
1:43
probably I wasn't having the amount of
1:46
deep sleep that I needed to function
1:48
daily and so I do feel making myself
1:51
more aware of having a good restful
1:55
night is very important and since I've
1:58
done that I feel as if I'm not having to
2:01
sleep more in the day and I've tried to
2:03
cut that out and get more day the
2:05
activity and and I try to swim every
2:09
morning and during the the week so five
2:12
days a week I swim and I try to walk the
2:15
dog with my husband as well and that has
2:17
helped with my moods
2:24
well I definitely think that I've
2:26
learned a lot about self-care uh and the
2:29
need to look after not just your body
2:30
but your mind as well and we talked a
2:33
lot about different apps
2:35
in the group
2:37
um mindfulness apps that I've used I
2:39
think is called smiling mind
2:41
um and I think our leader Dora sort of
2:44
pointed Us in the right direction to
2:46
make sure that we are finding time in
2:48
the day for ourselves and quiet time not
2:51
just sitting in front of the television
2:53
but also taking ourselves away
2:56
um to the bedroom and sort of you know
2:58
sort of having sort of
3:00
um sort of just sort of time on our own
3:02
away from screens and I know a lot of
3:05
our group did pick up on that the
3:07
importance of not having your phone on
3:09
not watching television and just sort of
3:12
relaxing before you went to bed and
3:14
obviously I've talked about sleep and I
3:17
think that was a really good sort of
3:19
suggestion for me
3:21
um
3:21
I've also used the get fit app
3:24
um to try and improve my fitness level I
3:27
swim every day and five days a week
3:29
which is one thing and I also try to
3:32
walk I'm definitely moving forward I'd
3:36
like to continue with that try to lose
3:38
the weights and use the different
3:40
strategies and the toolbox from Wise to
3:44
move forward and sometimes you tend to
3:47
forget things that you learn on courses
3:49
but on this occasion I do really want to
3:52
make sure that I improve my health and
3:54
and move forward and even though I know
3:58
that the chronic pain is never going to
4:00
go away I do hope that by using all the
4:03
suggestions made to us in ways I can
4:06
improve my daily life and be more
4:08
positive about the future
4:12
yes most definitely I've already spoken
4:15
to a number of my friends who are
4:17
suffering from different sort of
4:18
conditions and they hadn't even heard
4:21
about it and so I definitely think it's
4:24
something that if they go to their gpe
4:26
and they mention that they've heard
4:28
about wise it's definitely something
4:31
perhaps that they could be and sort of
4:33
put put onto a course for them and I
4:37
really do think yes I would recommend it
4:42
foreign
4:47
foreign
0:00
[Music]
0:03
[Applause]
0:07
thank you
0:14
um so I was having some female issues
0:17
um during the covered lockdown
0:20
um that was continuing to happen so I'd
0:24
been sent to the hospital
0:27
um but whilst I was waiting for the
0:29
hospital appointment my GP recommended
0:32
me to have a look at WISE online and to
0:34
see if it's something that I could
0:36
benefit from so I spoke to my husband
0:39
looked online showed him and we both
0:43
agreed that it was worth a go
0:50
it's helped me manage my
0:54
daily life a lot better my medication
0:58
wise
0:59
um one of my tablets I'm on the side
1:02
effect is very drowsy and I take it
1:04
overnight so I was struggling to get up
1:06
and be awake in the morning and talking
1:10
to the group about it in the group
1:12
setting they come up with like um a
1:15
problem-solving skill when they said
1:18
about putting the phone my mobile with
1:20
the alarm on over the other side of the
1:22
room so that I'd have to physically get
1:24
up to turn it off and it's been about
1:27
eight months now and I'm still doing
1:28
that on a daily basis so it's helped my
1:31
mornings start a lot better than what
1:35
they were
1:36
um
1:38
knowing that I'm not alone
1:40
even though we've got a lot of different
1:42
chronic issues
1:45
everybody in this group is understanding
1:47
so it's having that support system of
1:50
people that are going through similar or
1:53
are going through the same as being an
1:55
absolute
1:57
brilliant thing for me
1:59
um it's also made me aware to not be
2:02
ashamed of what I'm going through
2:05
and it's stopping me now from where I
2:09
used to hide away a lot I don't I make
2:12
implants with friends I'm going out a
2:16
lot more since because although I'm not
2:19
working and I'm I am signed off work
2:21
because of my health conditions
2:24
I'm not feeling like I need to just sit
2:27
at home and feel sorry for myself that I
2:30
can still have a life and this group has
2:32
shown me show me that
2:40
so some of the skills that I've learned
2:42
is like the action plans so we write
2:46
down what we want to accomplish how
2:48
confident we are and how we're gonna
2:51
achieve it and day that's helped me a
2:55
lot and I still continue to do that
2:57
um mine and more for for going out
3:00
because I I do struggle with going out
3:02
to a lot of my action plans to try and
3:04
get me out of the house and so far
3:07
that's what I'm using and my mobile
3:10
being the other side of the room I'm
3:13
still using that because it's still
3:15
getting me up in the mornings so I'm not
3:18
feeling like I'm wasting the day
3:20
um
3:22
the group itself the problem solving
3:25
um if I'm stuck and I can't work out
3:28
what to do I message the group chat that
3:31
we've got going on between us
3:33
as a group and they'll bring up ideas
3:36
that I didn't even think of
3:43
I talk about this group all the time
3:45
with how much it's helped me and we
3:48
touch on different things every week so
3:51
even if one week it's not really for you
3:54
the following week it could be something
3:56
that could really help and hearing other
3:59
people's situations in the group you can
4:02
kind of think well actually that's the
4:05
same as me as well and you could take
4:07
things away from that and and the group
4:10
as well the group you're in
4:13
I I can't speak for other groups but our
4:15
group is a very close-knit group and
4:17
we've continued to stay in touch and we
4:20
can will continue to stay in touch
4:23
and so even if you don't really come out
4:27
of any
4:28
skills as such I hope hopefully you'll
4:31
be like me and Come Away with a good
4:33
group of friends
4:45
thank you
0:00
[Music]
0:03
[Applause]
0:07
thank you
0:13
so around 2017 2018 I felt my mental
0:18
health start declining
0:20
um
0:21
was having some issues at home
0:25
a lot of mental and physical issues
0:29
to the point where I started locked
0:31
myself away at the house because I was
0:33
so embarrassed of my
0:35
at the time my my conditioner I wasn't
0:37
aware of
0:38
I suffer with severe sleep you know when
0:41
I was on the verge of dying 40 times an
0:43
hour which means
0:45
my breathing would stop for 10 seconds
0:47
or more in a in a in a period
0:52
that
0:54
deteriorated my mental health and caused
0:57
some psychotic issues
1:00
I tried the sweet brand of the carpet
1:04
for as long as possible but it's only so
1:06
long you can sweep it under before your
1:07
trip
1:09
I tripped very bad
1:12
like I said I was locking myself away my
1:14
friend would call me and say all right
1:16
you're coming out and I know myself I've
1:19
been going out I had no intentions of
1:21
going out but I'd say yes they'd come
1:23
and knock the door he wouldn't answer I
1:24
wouldn't answer the phone
1:27
it became a very very
1:30
um
1:30
not a nice person to be around and
1:34
had a near Miss at home when I fell
1:39
asleep with the frying pan on and I fell
1:42
asleep behind the wheel the car so I
1:45
thought right I have to do something
1:46
about this I went to the doctors and
1:50
they diagnosed me with severe sleep
1:51
apnea in March 2022
1:54
so I had neon a year off work
1:58
they took my driving license off me
2:02
and I needed to sleep with a CPAP
2:05
machine which was forcing oxygen don't
2:06
need to make into my lens
2:09
to help with my breathing because my
2:12
heart was working 10 times harder so I
2:15
was putting stress on my heart making me
2:16
more prone to heart attacks
2:20
yeah it was quite scary and yeah I just
2:24
self-destructed
2:26
so I I had to
2:29
do with the issues I knew was going on
2:31
then once I'd been diagnosed I said I
2:33
needed help from somewhere and I was
2:36
recommended wise so here I am today
2:42
it brought me out to my shell so I'm
2:45
more I'm back to be well close to being
2:48
the person I once was before I had my
2:51
health condition it's help mentally and
2:55
physically because now I'm out and about
2:57
from a house I'm not so anxious about
2:59
going out and being embarrassed of would
3:01
I fall asleep here or fall asleep there
3:03
and have people watching me
3:06
it's give me the tools that I need to
3:08
help cope with stressful situations
3:11
breathing mechanisms
3:14
yeah it's it's
3:16
really got me back up to my shell and
3:20
seeing other people as well for there
3:22
are also here for the same reasons is
3:26
it's nice so it's helped a lot
3:34
well they've helped with Understanding
3:38
Nutrition better which can be also a
3:41
massive factor in improving your
3:43
well-being there's this the breathing
3:47
mechanisms about taking your time to
3:49
think about what you're saying how you
3:52
um
3:53
how you communicate with other people
3:56
yeah I think um
4:02
definitely
4:04
brought me back up my shell to be so I'm
4:07
near enough to be in the personal
4:08
everyone as well as again
4:14
oh definitely 100 percent
4:16
as blokes Were Meant To Be these strong
4:18
you know providers and what have you I
4:22
was one of those I thought I didn't need
4:24
the help and that's probably where why I
4:27
got the point of
4:29
if I didn't come on on the course I
4:31
don't know where I'd be right now if
4:33
anything I'm
4:35
I'm an example a good example of how
4:39
it's helped
4:41
I'm probably one of the youngest well I
4:43
am the youngest bloke in in the group
4:46
and
4:48
it's it's a sad thing it's not more
4:51
bloke young blocks here but I guess
4:55
I want to give something back now to to
4:57
wise and help promote the courses to
5:00
help bring
5:01
not just blogs but yeah like younger
5:05
youngsters back into if they do require
5:08
the help
5:09
take you know to take a step forward and
5:12
come but then that's when you're
5:15
you know
5:17
you'll move on you realize
5:19
how beneficial this program is