Poppies take pride of place as volunteers show their skills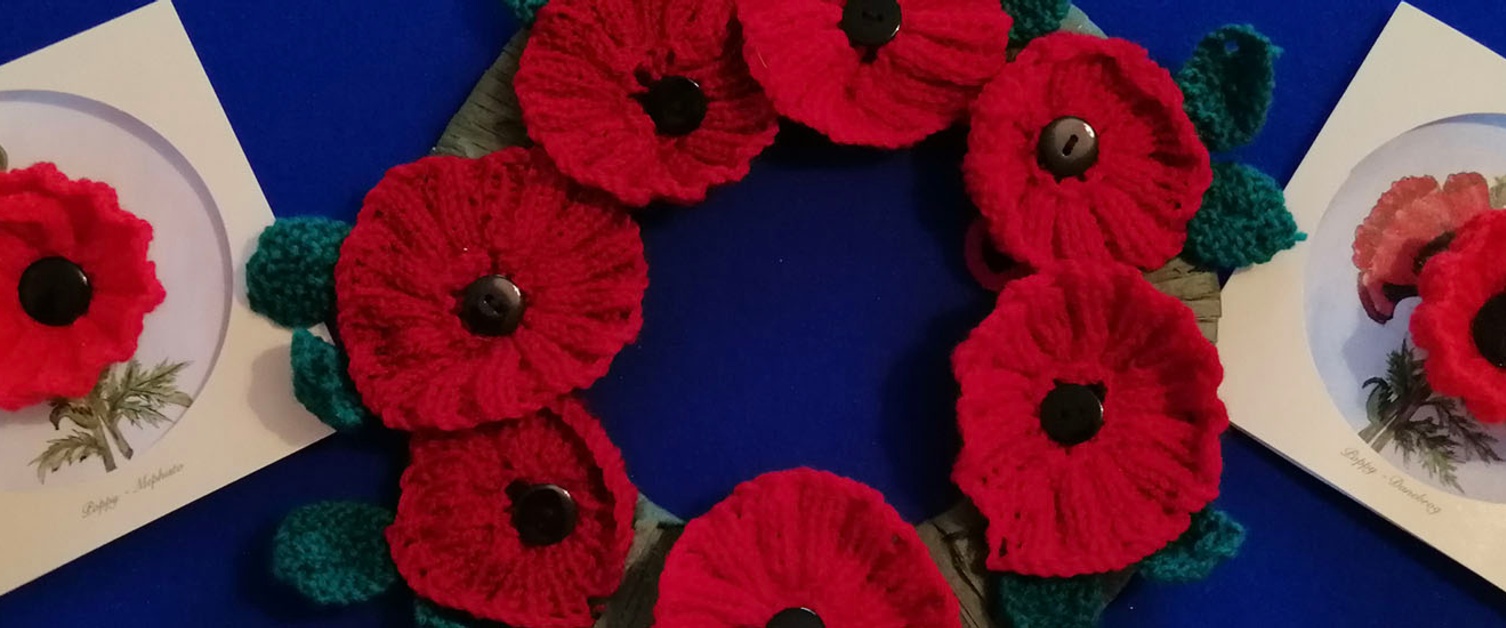 Volunteers unable to support patients face to face during lockdown have turned to craft to mark a Remembrance Day with a difference. Beautiful poppy wreaths, individual knitted poppies and handmade cards have been created to boost the wellbeing of patients affected by COVID-19 and the staff looking after them.
With largescale events unable to go ahead this year, our army of volunteers has been determined to use new-found skills to mark Remembrance Sunday and November 11. Beautiful poppy wreaths are on display at Ysbyty'r Seren Hospital in Bridgend and dozens of single poppies have been knitted, while one volunteer has also penned a moving Remembrance Day poem and painted a field of poppies to accompany it.
Cwm Taf Morgannwg volunteer coordinator Glenda Phillips said: "Pre-Covid, we had more than 300 volunteers across the health board but we had to stand them down at the start of the pandemic and they haven't been able to return to patient-facing roles. Our volunteers are aged from 16 to their 90s and many have been service users themselves.
"We have been having virtual weekly catch-ups and they have been doing a diverse range of things, such as arts and crafts and complementary therapies. Some have made trauma teddies and twiddle muffs with wool donated by members of the local community, while a number of knitted items have also been donated by St Brides Knit and Natter, to which a number of our volunteers belong. Some of our volunteers have also knitted individual poppies, as well as creating wreaths and putting poppies on cards and decorating CDs."
The poppies have been donated to Cwm Taf Morgannwg's chaplaincy team, which includes Ysbyty'r Seren Hospital chaplain Hilary Pritchard and volunteer Mavis Martin, who has been cleared to support post-Covid patients.
Glenda added: "The volunteers have been working so hard in the background and missing the face-to-face interaction with patients, so it's lovely to be able to spotlight the wonderful things they have been doing during lockdown. Volunteer Julie Croad has turned to art during the pandemic and painted a beautiful field of poppies, as well as writing a poem to share with the community."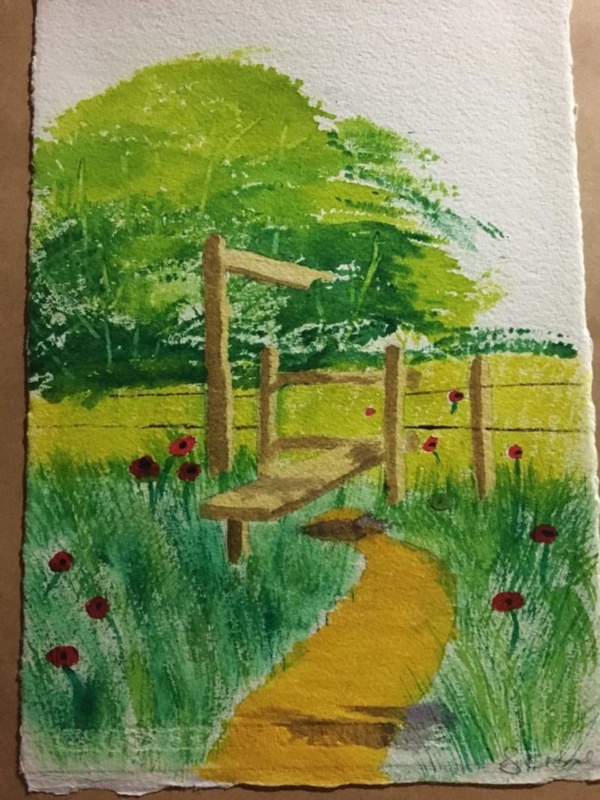 Remember Me
© Julie Croad
Think of me on a bright blue day
as you stroll our country lane.
The breeze that gently strokes your face
will softly sigh my name.
When the summer grass was green
we ran here long ago.
We thought we had forever
and time went by so slow.
When the golden corn is high,
walk on to the surging brook.
Pause a while upon the bridge
as round about you look.
Now take the path that leads you
down to the wooden stile.
Stay a moment, you'll recall
this is where we said goodbye.
Does the sign that points the way
still stand in the same place?
You know you cannot follow me.
Dry the tears upon your face.
Gaze across the cornfield,
but do not climb the stile.
The path I took you cannot tread –
but remember me and smile.
Turn towards the ancient trees
that grow so proud and tall.
If only times were different,
we might have had it all.
Sweet poppies growing all around.
They smile and nod their heads.
Henceforth they'll have new meaning
when not a word is said.
And the many lives discarded
for the price that freedom costs
will always be remembered
and never one forgot.
So in a silent moment,
think of how I set you free.
Our voices echo down the years,
"Darling, please remember me."